03 Jan 2017
Here's What Makes Laminate the Ideal Flooring Solution
When designing a home, there are many decisions to make – from the smaller and not that significant ones, to deciding on the rather big and space consuming elements that play a huge role in the overall décor scheme. One such big style element is the floor. Installing a new floor is generally an expensive investment which is why so many people try to find the most affordable and durable option possible.
One of the most popular choices among homeowners is laminate. Available in a variety of different colours, styles, textures and materials, laminate flooring is one of the most versatile flooring options that suits any décor. Since it was first created, this flooring material has undergone many changes only to become one of the most resistant and durable types today.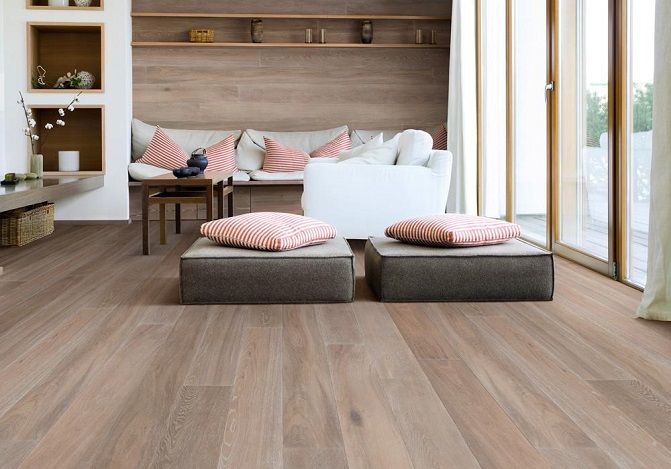 Wood Laminate Flooring
As with most things – the higher the cost, the better the quality. Same goes for wooden laminate. This kind is the most expensive one but it also offers the highest quality of all kinds, combining the best features and designs. Also known as timber laminate flooring, this type offers great protection against stains and it doesn't wear easily as it has a lifespan over thirty years. Timber laminate flooring is designed to mimic the feel and look of wood at a lower price than actual wood. Quite the convenience.
Textured Laminate Flooring
When looking for the perfect flooring for your home, choose the one that will complement your home interior. With this in mind, a textured laminate is a good choice because it is designed to take on the feel of many other materials. You can select anything from the silky, velvety, rough or smooth texture to give a finish to your laminate planks. Since laminate can be a little hard on the feet, the textured one is perfect as it has a softer feel.
Waterproof Laminate Flooring
In a home with kids, moisture is always an issue. The chances of having something spilled on the floor that will be left uncleaned for some time are always bigger when you have kids running around every day. For that reason, choosing a floor that will withstand moisture is a must. One of the latest inventions in the world of flooring is the waterproof laminate. This floor is designed to eliminate water, sound, and moisture from the floorboard. This floor won't warp, splinter or rot when it comes in contact with water which makes it the perfect choice for humid climates.
Laminate flooring comes with many great benefits that make it an ideal flooring solution for about any home and style. Not only is laminate cheaper than other flooring solutions, but its installation cost is far smaller than the cost of installing hardwood for example. Plus, for every housewife, cleaning is one of the most important factors to consider which is why laminate is the preferred choice. It is really easy to clean – all it requires is just sweeping and vacuuming it. Also, thanks to its protective layer, laminate can be constructed to resist allergens, mold and even sunlight. Still hesitant?