14 Jul 2017
Indian Homewares: the Ideal Gateway to an Exotic but Tasteful Home
India is home to one of the most diverse cultures and rich heritage. The country's ecstatic living mantra can be clearly seen in historical architecture wonders like the breathtaking Taj Mahal. However, this splurging side of old India over the years has started to become balanced out by minimalist and Zen view points which gained importance amidst people's mindset. These opposite but complementing ideals have merged into the unique charm of Indian interior design.
Yes, Indian interior design likes to shock, but does so in a tasteful manner, by using carefully selected homewares that denote sophisticated eccentricity. But don't worry, you don't have to travel all the way to Mumbai, you can easily forage for Indian homewares online from the comfort of your living room. Here are some inspirational tips about the ideal homewares that can open up a passage to India in your very own home.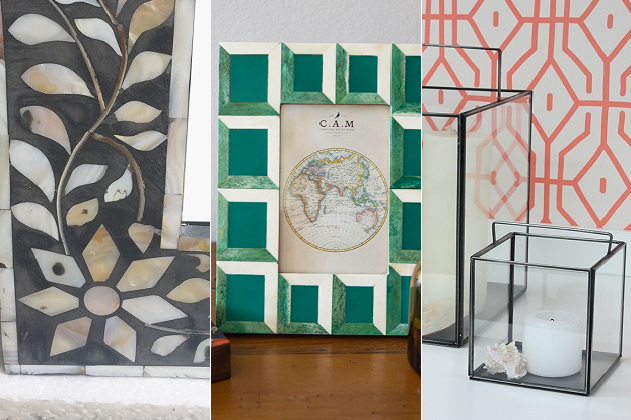 Colourful Homewares
The ultimate hallmark of Indian interior design are bright and varied colours. This freedom to play around with the palette sure is tempting, but sometimes too much colour can visually suffocate the space. A room with splashes of bold hues on homewares such as mirrors and pillows is a good backdrop to further build on. When looking for ideas about what colours to include, try thinking of the exotic Indian food and nature to spark your inspiration, like fluffy pillows in curry-like ochre yellow, burnt orange on wall art, saffron red on the rug, turquoise beads scattered on the coffee table. Startling blues and greens can be great accent colours for mirrors and ottomans. Wooden coffee tables and chairs in neutral, earthy tones can cool down the vibrancy of these homewares to reach the balance Indian style strives for.
Handcrafted with Love
Handcrafted beaded Bali boxes are all the craze recently. These magical surprise boxes are both decorative and practical, featuring beads placed with great care and love by Indian artisans. Bali boxes come in many different sizes and colours, allowing you to arrange two or more of them in a stunning, exotic display. The great thing about them is that the ones that come in soft white hues can be incorporated in various other styles as well, such as coastal or Hamptons.
But Bone Inlay items are persistently the most commonly bought Indian homewares online. This is because the technique is mastered by Indian craftsman from the magical Rajasthan and is difficult to replicate. Luckily, there are many Australian stores that offer genuine bone inlay homewares such as mirrors, frames, trays and more. A genuine bone inlay item is made out of delicately carved pieces of camel bone and mother of pearl shell which are one by one inlaid into exquisite timber in a floral pattern. The bone inlay's detailed pattern can be accentuated by bold colours such as fuchsia, emerald or indigo.
Statement Pieces
If you feel the above mentioned pieces do not scream India enough, there are a variety of accessories that can make an immediate connection. Wood, iron, bronze or brass statues of Hindu gods and goddesses, or Buddha deities that are strategically placed around the room will inspire long talks about India and its unique culture. One of India's beloved animals – the elephants are easy to be found as ornaments or engraved on pillow cases. According to Feng Shui, elephants can bring good luck and prosperity to the home.