13 Feb 2018
Ottomans: Meet the Ideal Added Luxury of Any Interior Design
Making a certain change in the design of your home does not necessarily require spending a lot of money. Purchasing a single piece of furniture can make a great difference and give the room a new and refreshed look. If you are already considering to do exactly that, you may want to consider buying an ottoman. Whether used as a footstool, tuffet, hassock or pouffe, the ottoman is one of the most underrated pieces of furniture. The history of ottomans begins during the time of the Ottoman Empire, serving as a central piece of residential seating. Initially the original look of the ottoman was designed as a low wooden board piled with cushions, and in time this look evolved in terms of simplicity, making it smaller and more practical for everyday use.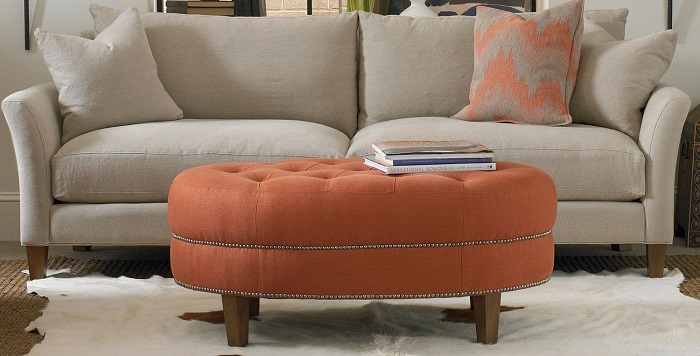 Apart from being small, low seat pieces of upholstered furniture with a cushioned top with no back nor arms, ottomans are also mobile and practical for storage purposes. They are extremely versatile and can add a dose of sophistication when arranged with other pieces of furniture in a proper way. Ottomans can be used for many different purposes, the most standard being as a foot rest. For this cause, they are usually paired with a chair or a sofa, making them great for lounging and relaxing. But once you buy this piece of furniture and start using it on a regular basis, you will discover that it provides many more options, besides being a humble footstool.
For instance, ottomans can be practical for less spacious rooms and serve as an extra seating arrangement for when you have guests over. Another popular way of using the ottoman is as a cocktail table replacement. Its storage feature can be practical not only in the living room where it is usually placed between the TV and the sofa, but all over the home where you need to keep an area decluttered. Having the ottoman in the bedroom at the foot of the bed gives you a nice transition from the bed to the floor and adds extra seating.
When it comes to design, you can find a few different types of ottoman, such as the standard one, the pouf ottoman, the cocktail or coffee table ottoman, or the cube. There are also many shapes to choose from including: square, rectangle, round oval or even novelty oval, and they are all made from different materials, including: leather, velvet, suede, rattan or tufted.