03 Nov 2015
Secrets To Buying The Ideal Sofa For Your Home
Buying a sofa is no easy task, it's one of the biggest investments you will make when buying furniture. There are many deciding factors when choosing a sofa that's right for you and your space. Don't ever impulse buy a couch or sofa, these pieces will remain in your life for decades so choose wisely.
So many rooms that accommodate sofa beds, lounge room sofa, basement sofa, dorm sofa even outdoor furniture sofa. Some of the deciding factors when choosing are style, size, space, price, and quality. When you think of your space, what do you need the sofa to function as? Do you entertain? Or is it just you? Does it need to be of a certain material? Do you have any pets? You really need to put some thought into buying a sofa that is right for you so you can have a greater understanding of what kind of sofa you need before investing in one that doesn't work.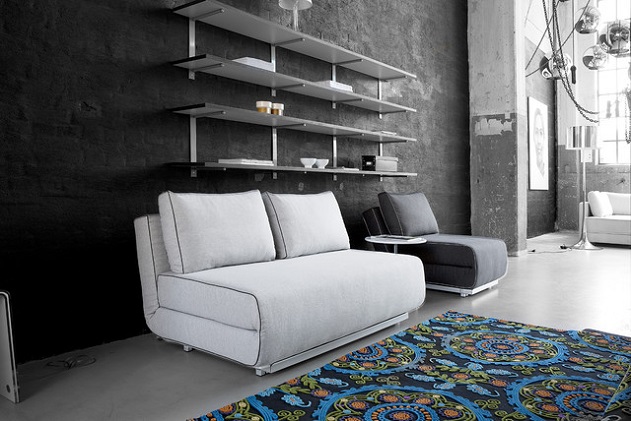 The most important thing to look for in a sofa is comfort and style, there are so many different types of sofa beds available and in almost every colour under the sun. Remember if you find a couch that you absolutely love but hate the colour, you can always re-upholster it to match your tastes. So onto styles of couches, while it's impossible to mention them all, let's touch on a few modern favorites, or old classics and how to style them. 
A sectional couch is ideal for someone who has an open concept lounge room, they can add focus to a room that is bare. They are also great to divide studio apartments to make space look more functional and separate from the rest of the house. You can find this popular type of couch in all sorts of shapes and colours sure to suit your needs.
Remember to think about your own comfort when buying an indoor or outdoor furniture couch. If you like to lay down and spread out, make sure you test it out before you buy it, sometimes sofa beds with large arms can actually take away from space you have to stretch. If you have a small space but are trying to find the biggest couch that will fit without making it too crowded, look for a sofa with small or no arms, this will make your space appear bigger. When choosing a sofa make sure you get enough room for it to seat everyone, an indoor couch that has only two cushions is probably not enough for a large family. Indoor furniture sofa cushions tend to be more comfortable than outdoor furniture sofa cushions but not necessarily.
Sofa beds are usually made for different levels of comfort, some come with pillows for the back, some are firmer and made to look more clean cut. Unless you fluff your pillows often, most of the time these will look a little off, so if you're striving for something more elegant and clean then I wouldn't choose this style. Always make sure to test your sofa before you buy it. A sofa that might be comfortable for someone else may not be for you. Try to choose a sofa that looks timeless, neutral shades and shapes will work well for decades and you can always spruce them up with throw pillows when you decorate. If you have little ones consider darker fabrics in case of accidents.
The biggest thing to look for, of course, when you're investing this much money in furniture, is quality. The first thing you need to look at is the frame of the sofa. A sturdier frame means longer wear and uses out of your sofa. As far as woods go the most durable seem to be oak, ash or beech. Plastic and metal frames can change shape, chip and crack over time. Another thing to check within the frame is how it has been joined together. A sofa that is solely held together with staples, glue and nails is not a good sofa. The words wooden dowels, double wooden dowels and wooden corner blocks are all great when looking for what joins a sofa together. You can always ask the person working or check with the manufacturer.
There are so many options to choose from when it comes to the filling inside your sofa, each has a plus and downside. Foam is low cost and easy but when you buy a cheaper foam it will deteriorate pretty quickly if the sofa is being used regularly. Polyester fiber is another cheap option, goose and duck feather fillings are nice but can clump up. According to HelloWebz, the most expensive type of filling is goose down, but it needs constant maintenance. Just like there are many options for filling there are also many options for materials and fabric.
Cotton and linen are great, but can snag, try to go for a strong, durable fabric that will last when it comes to either indoor or outdoor furniture sofa. Most furniture places will also provide a swatch of material for you to take home to test at home to make sure it's what you want.
Shopping for a good quality, a timeless sofa can be a bit tough. The pressure of choosing the right one can be a little daunting, but if you choose carefully and consider everything like the style, look, comfort and quality of the sofa, it should be easier to make a decision. You can find plenty of good quality sofa beds locally, but if you are looking for something more specific, you can find an array of different sofas in a different style, shapes and colours online.